Louisiana Agricultural Consultants Association Awards Ceremony 2021
Four $2,000.00 scholarships were awarded to well-deserving students. Below is a brief bio and a photo of the student recipient with the scholarship sponsor.
Due to the Covid-19 pandemic, scholarships were unable to be awarded in person at our annual conference. Instead, the 2021 scholarship recipients attended the 2022 LATMC to be acknowledged and have photos taken with the funding parties.
Doctoral Scholarship
Peters Egbedi
2021 LACA Scholarship Recipient funded by Belchim Crop Protection
I grew up in an agrarian community where peasant farming is predominantly our occupation. Growing up as a child, it was a routine to help my parents in various farm activities. At some point, we had great crop yield losses, which became a puzzle that gave me direction to my career choice in agriculture. I have a Bachelor of Science in Agriculture from the University of Ibadan, Nigeria and a master's degree in Environment, Health and Safety from the University of Sunderland, United Kingdom. In my quest to contribute to knowledge and sustainable agricultural development, I am currently pursuing my doctorate in Agronomy with a focus on cover crops and conservation tillage as sustainable crop production practices for improving soil health and crop productivity. Despite the potential of cover crops to improve crop yield without compromising the soil's productive capacity of our future generation, its implementation is still very low particularly in the US. To ensure the global aim of achieving food security in a sustainable manner, we need to further explore this area to bring to limelight its benefits that will lead to a holistic and systematic adoption to help revolutionize crop production. Therefore, the major goal of my research project is to sustainably improve soil health function that will improve soil health and crop productivity without compromising the economic returns to farmers thereby leading to its adoption in Louisiana. Overall, I hypothesize that the adoption of cover crops and other conservation practices will result in a change in crop production practices from the current input maximization to increased yield and profit maximization that will meet the three fundamental indicators (social, economic, and healthy environment) of sustainable agriculture.
Finally, I would like to express my profound gratitude to the sponsors of this scholarship, and I am greatly honored to be a recipient of the 2021 LACA scholarship award. Thank you.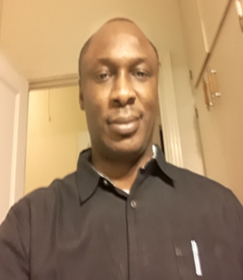 Peters Egbedi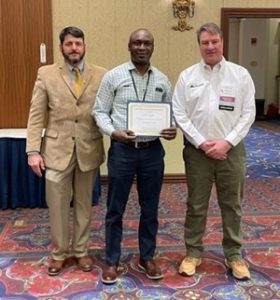 Peters Egbedi, 2021 scholarship recipient shown with Dennis Long of Belchim Crop Protection (right) and LACA President, Blaine Viator
Masters Scholarship
Tyler Musgrove
2021 LACA Scholarship Recipient funded by Mr. Ray and Ms. Dorothy Young
Tyler Musgrove is currently enrolled at Louisiana State University, pursuing a M.S. degree in the department of Entomology, where he currently has a 3.911 GPA in his graduate studies. Tyler earned his BS degree from Louisiana Tech University in AgBusiness with a Minor in Plant Science. For the past five years, he has worked with Rusty Elston as a field scout in his consulting business, identifying pest problems in soybean, corn, rice, and sorghum. His current research focus is, evaluating the effect of neonicotinoid seed treatments on the early season colonization and establishment of Spissistilus festinus (Say), three-cornered alfalfa hopper, in Glycine max L., and looking at economic threshold verification of Spissistilus festinus (Say) in Glycine max L.
"Currently, there are discrepancies in the literature regarding how economically important this pest truly is. Although annual reports suggest this pest is responsible for millions in economic loss, recent studies suggest that TCAH may not be as impactful as previously thought. If this were true, integrated pest management strategies regarding TCAH may be unnecessary. No previous research has ever evaluated the effects of insecticide seed treatments (ISTs) on the early season colonization and establishment of TCAH in soybean. With the increased usage of ISTs in soybean production, new research must be done to elucidate the effects of ISTs in controlling the TCAH. Therefore, the objective of my research is two-fold: to determine if the current use of ISTs in soybean impact early season colonization, and to determine whether the current state recommended threshold for TCAH needs refinement."
Tyler's thesis research was in large part his idea after having worked with Mr. Elston. He noted many inconsistencies regarding hopper thresholds and the best control measures for them. His research work will play a key role in evaluating effectiveness of current and future control methods for TCAH in soybean. His work will produce valuable insights that will allow growers and consultants to improve their response to TCAH in their soybean fields. He hopes that his experience conducting research and investigating scientific issues involving Louisiana agriculture will compliment his future goal of becoming an agricultural consultant. Tyler is a hardworking, well rounded, and driven individual who is very deserving of a MS scholarship from the LACA.
Undergrad Scholarships
Elijah Ward
2021 LACA Scholarship Recipient funded by Louisiana Land Bank ACA (Stephen Austin, CEO)
Elijah Ward is currently a Senior majoring in Agribusiness at the University of Louisiana at Monroe. He is from the small, rural town of Crowville, in Northeast Louisiana. Elijah has grown up on and around the farm with his grandfather, father, and uncles. He spent his summers as a teenager working with his family growing cotton, soybeans, corn, and grain sorghum. After graduating from Delhi Charter High School, he enrolled at the University of Louisiana majoring in Agribusiness. He has maintained a 3.3 overall GPA while at ULM, with a 4.0 in his major oriented classes. He received the TOPS scholarship, as well as the ULM Warhawk scholarship, and was invited to join the National Honors Society and is a member of Delta Tau Alpha (the AgBusiness Honors Society). While attending ULM, he has spent the summers working for his Dad's consulting business, Ward Crop Consulting, while also assisting him on his row crop farm. Elijah plays a major role in the day to day operations of both his Dad's businesses, from scouting fields to harvesting crops. On a personal note, during the summer of 2020 when I was short handed in my consulting business, he assisted me for a couple days to help me catch up (Ashley Peters, Chair of the LACA Scholarship Committee). He has been very active in extra-curricular activities while attending ULM. Upon graduation, Elijah plans to obtain his consultants license and continue working with his Dad's consulting and farming operations in Franklin parish. Elijah is a hardworking, well rounded, and driven individual who is very deserving of a BS scholarship from the LACA.
Logan Vallee
2021 LACA Scholarship Recipient funded by Dr. & Mrs. Grady Coburn of Pest Management Enterprises
Logan Vallee is currently a Junior majoring in Ag Business and General Ag at McNeese State University in Lake Charles, LA. Logan has been involved with his Dad's consulting business for many years, and has served as a crop scout since 2015. In that role, he has been tasked with evaluating crops for different pests and growth stages, as well as pulling soil samples for nutrient analysis. He credits his Dad with instilling in him a love for agriculture and a strong work ethic. During his time at McNeese, Logan has been very involved in the collegiate FFA and many other projects and services with his major professors. Logan comes very highly recommended by his professors and instructors at McNeese, who make note of his desire to learn and advance his knowledge not only in the field with his Dad, but also in the classroom. Upon graduation from McNeese, he plans on pursing a M.S. in Weed Science at LSU. Logan knows the value of a good education and continuing that education with a post graduate degree, furthering his knowledge in the field. At some point in the near future, he plans on obtaining his consulting license and continuing to work in his Father's business. Logan is a hardworking, well rounded, and driven individual who is very deserving of a BS scholarship from the LACA.