Louisiana Agricultural Consultants Association Awards Ceremony 2022
Four $2,000.00 scholarships were awarded to well-deserving students. Below is a brief bio and a photo of the student recipient with the scholarship sponsor.
Doctoral Scholarship
Colin Bonser
2022 LACA Scholarship Recipient funded by Belchim Crop Protection
If anything can be said about Colin Bonser, it is that he is dedicated to his goals and driven to excel, shown by his academic history and achievements as a nontraditional student. He joined the U.S. Navy following his graduation of high school in 2007. For five years, he proudly served as a Hospital Corpsman where he received training as a surgical technologist to provide life-saving care. He was stationed at U.S. Naval Hospital Guam, then at Camp LeJeune, NC with 2nd Medical Battalion. In 2011, he deployed to Afghanistan as part of Operation Enduring Freedom. The U.S. Navy taught him invaluable experience in leadership, time management, and working under pressure.
His academic career began at Red Rocks Community College in Lakewood, CO separating from the U.S. Navy.  He completed three semesters there and then  transferred to CU Boulder where he was awarded an Associate's Degree in General Studies. While at CU Boulder, he traveled to Germany to study abroad, and then  moved to Poland where he worked as a language tutor and lecturer at a private firm.
In 2018, he began his PhD program at LSU in Dr. Jeffrey A. Davis' Soybean Entomology Lab where his  research interests include the use of nanoparticles as pest control tools. More specifically, he is looking at biopolymeric nanoparticles as an alternative pesticide and vehicle for administration of chemical active ingredients, while also elucidating the chronic effects and possible mechanisms of their action. His goal is to incorporate applied entomology and nanoscience to create a new field of study, which he has  coined as "nanoentomology." His mentor, Dr. Davis, taught him that the goal of an applied entomologist in agriculture is to aid the farmer. Thus, his current research is focused on nanoparticles as alternative pest control tools and the lasting effects of the particles in the field and on the insect. Hopefully, his research will be able to benefit consultants by adding a new technology for their use as a tool in integrated pest management.  It is his hope that his research will be utilized to bring nanoscience and integrated pest management into the new era of research and development—"nanoentomology."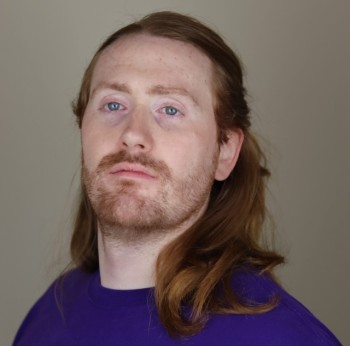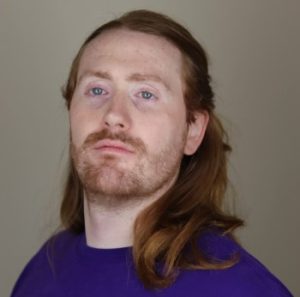 Colin Bonser, recipient of scholarship funded by Belchim Crop Protection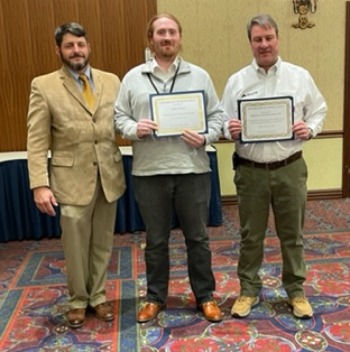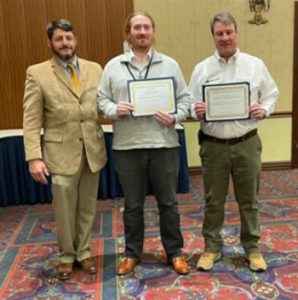 Colin Bonser with Belchim Crop Protection representative, Dennis Long (right) and Blaine Viator, LACA President
Masters Scholarship
Hector Duran
2022 LACA Scholarship Recipient funded by Mr. Ray and Ms. Dorothy Young
Hector is currently working on a MS in soil fertility and GIS in the school of Plant, Environmental, and Soil Sciences.  He received his BS form the Universidad Mayor de San Andres in Ag Engineering.   In the past, he worked as an irrigation systems management consultant, where he developed activities with many farmers' associations where he designed the irrigation plan and analyzed the water balance of the irrigated area. Moreover, he was also an extension specialist working with farmers to implement best agricultural practices that can help them to achieve their potential production. Now as a graduate research assistant, he hopes to gain new skills on how new agricultural technologies can enhance the sustainability of production systems. Under the tutelage of Dr. Brenda Tubana, he will use remote sensing devices to improve the adoption and understanding of cover cropping on sugarcane production cycle for a more viable and diversified system. His main career goal is to work for the increase in agricultural production in a more sustainable way, with a soil health and an environmentally friendly management perspective. In the near future, he would like to continue his education pursuing a Ph.D. degree in sustainable digital agriculture. Later, he would like to start his own consulting firm in agriculture and soil management because he is well versed in  engaging  with stakeholders and running government or international cooperation projects.
Sugarcane is one of the most important and successful row crops in Louisiana. Sugarcane is not only a vital industry for the state's economy but, it has tradition and history that dates back to the 18th century.  The project that he is conducting at the LSU AgCenter Sugar Research Station in St. Gabriel was established in 2019. It is focused on improving soil health for sugarcane production. The main objective of this research is to determine the impact of planting method (broadcast vs. drill) and rate of cover crops on sugarcane yield and quality components. In addition, assessment on the effect on soil nutrients levels under different planting methods and rates of cover crops is part of the objective of this project. Moreover, he is evaluating the use of different remote sensing tools to predict cover crops biomass and potential nutrient turn over to soil, so the adoption of cover cropping would be greater. All these combined together will be essential to improving fertilizer management in sugarcane production with a beneficial impact to the environment, i.e., lower risk of losing nutrients to the environment.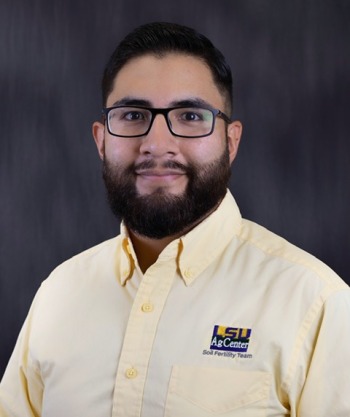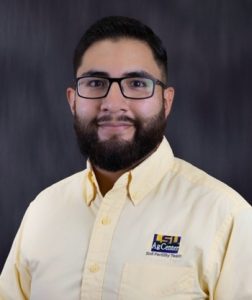 Hector Duran, recipient of the scholarship funded by Mr. Ray and Ms. Dorothy Young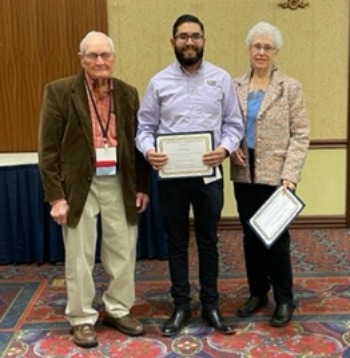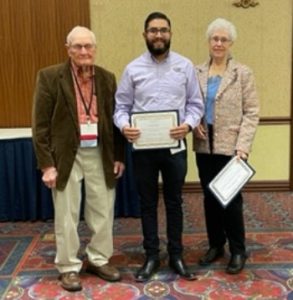 Hector Duran with Mr. Ray and Ms. Dorothy Young
Undergrad Scholarships
Katie Paterson
2022 LACA Scholarship Recipient funded by Barbara and Grady Coburn of Pest Management Enterprises
Agriculture has always been of great interest to Katie, and since her time at LSU she  has realized she wants to be a part of the industry and make an impact. She works for the Louisiana State University AgCenter in the School of Plant, Environmental, and Soil Sciences, specifically in the Weed Science Department. Working in a research lab has opened countless opportunities for her future and has provided her with invaluable relationships with mentors. Throughout Katie's  time here she has found that she has a seat at the table in the agricultural industry. Research has become her focus and what will continue to be her focus as she begins graduate school in June 2022. She will be starting her PhD in weed science and ecology where she will investigate and compare all methods of harvest weed seed control, an alternative non-chemical approach to weed management. As she prepares for her future studies in graduate school, she envisions  the impact that they will have on the industry as this is vital information for today's farmers and growers. There is nothing more important to her than doing anything she can to provide farmers and growers with the tools necessary to succeed. She feels everyone deserves a seat at the table in agriculture and she is happy to finally have found hers.
Some of Katies awards and recognitions include:
Distinguished Undergraduate Researcher Candidate (2021)
Dean's List (2020, 2021)
Elected Louisiana State University Agriculture Student Association Secretary (2020-2021)
Wilbert's Sons Undergraduate Research Internship Program (2020)
National FFA American Degree recipient (2020)
John Jachetta Weed Science Society of America Undergraduate Research Award recipient (2019)
Zachary High School Student of the Year Finalist (2019)
Louisiana FFA Association State Secretary (2018-2019)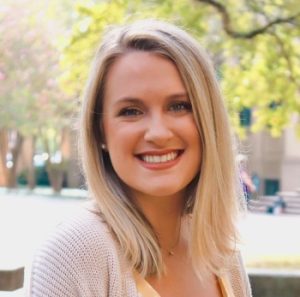 Katie Paterson, recipient of the scholarship funded by Barbara and Grady Coburn of Pest Management Enterprises
Sarah Tarver
2022 LACA Scholarship Recipient funded by Louisiana Land Bank
Sarah Tarver is  a junior studying plant and soil systems at Louisiana State University. Her time studying and researching at LSU has inspired her to pursue a career in agriculture advocacy. Applying for this scholarship was motivated by her passion for bridging the gap between the agriculture industry and its many stakeholders, specifically those of non-agricultural backgrounds, in order to preserve our natural resources and ensure sufficient crop yields.
Growing up in Pointe Coupee Parish, her daily commute to Baton Rouge for the duration of her primary education was accompanied by rows of sugar cane, cattle pastures, and slowing down for the occasional combine on the road. In high school, she realized that her classmates did not share the same experiences and were unaware that their sugar was being harvested just across the Mississippi River. This sparked her interest in advocating for the agriculture industry within non-traditional communities.
While studying plant and soil systems at LSU, she  has gained a multidimensional understanding of our land from the ground up. Engaging with topics such as soil health, botany, and sustainable crop production has allowed her to comprehend dense scientific findings and analyze the root cause of our problems.
Since January of 2021, Sara has been conducting undergraduate research in LSU's Plant Pathology Department with LSU Plant Pathologist Dr. Raj Singh and LSU Consumer Horticulturist Dr. Heather Kirk-Ballard. Her research project evaluates the antimicrobial effects of a natural fungicide derived from essential oils to prevent southern blight fungus infections in industrial hemp. In 2020, over 80% of the Louisiana pilot hemp crop reported complete crop loss and evidence of southern blight, according to a 2020 UDSA Crop Data Report. This negatively affected the farmers invested in the Louisiana industrial hemp industry, the environment, and identified a desperate need for a solution before Louisiana falls further behind in the hemp industry.
Since March of 2021, the examined plant-based fungicide has been 100% effective throughout in-vitro trials and promising strong anti-microbial action. She is eager to begin testing the product in plant trials over the semester with hopes of providing a solution for Louisiana hemp farmers, who have no fungicides labeled for use on industrial hemp preventing southern blight.
Preceding her undergraduate research, in the summer of 2020, Sara had the opportunity to travel to the Midwest interviewing farmers and ranchers about mental health, succession planning, and sustainable land management practices with the National Grazing Lands Coalition. This on-the-ground work emphasized the need for making producer's personal testimonies easily accessible to educate other landowners, advocate for the needs of land managers at the state and national level, and communicate the importance of land stewardship. Additionally, she had the opportunity to work collaboratively with a professional videographer, Taylor Frey, to create media content emphasizing the importance of land and soil conservation while connecting industry stakeholders with producers first-hand.
Furthermore, her previous internship at the LSU Sweet Potato Research Station allowed her to work with Louisiana producers on a personal level and highlighted the importance of extension work. From this internship, Sara became aware that problem-specific technical assistance is necessary for establishing our research findings into long-term practice. Farmers and ranchers manage the majority of our natural lands; thus, it is our role to educate and promote strong land stewardship practices by navigating difficult conversations, working first-hand with landowners, and building relationships across diverse communities of stakeholders.
Upon finishing her BS degree in 2023, she plans to attend graduate school and earn a master's degree in agriculture economics or agriculture communications to strengthen her abilities to convey the importance of land stewardship and achieve strong policy outcomes at the local, state, and national level.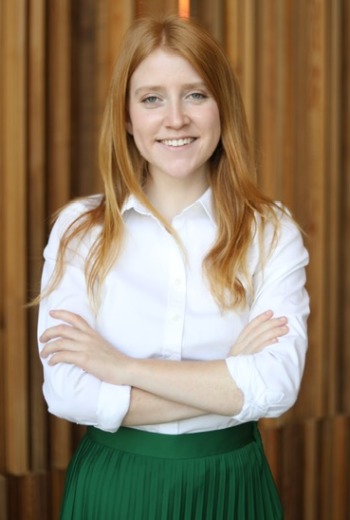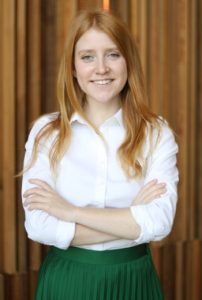 Sarah Tarver, recipient of scholarship funded by Louisiana Land Bank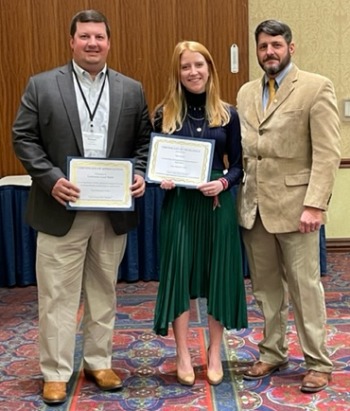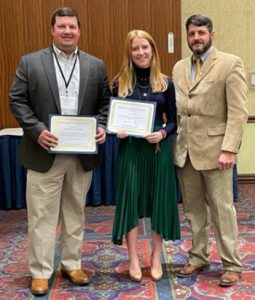 Sarah Tarver with Louisiana Land Bank representative, Robert Crotty (left) and LACA President, Blaine Viator