Louisiana Agricultural Consultants Association Awards Ceremony 2023
Four $2,000.00 scholarships were awarded to well-deserving students. Below is a brief bio and a photo of the student recipient with the scholarship sponsor.
Doctoral Scholarships
David Galo
2023 LACA Scholarship Recipient funded by Grady and Barbara Coburn of Pest Management Enterprises
I have devoted the past eight years of my life to the study of different plant pathogens while working on a range of research projects at different academic institutions. I have been surrounded by people who have devoted their lives to agriculture. Perhaps my biggest influence was my father, a coffee farmer in Honduras, who instilled in me a passion for farming from a very young age. This passion made me pursue agronomy as my major for undergraduate studies at the National University of Agriculture, Honduras. Here, I was introduced to plant pathology with research projects evaluating plant diseases on, cocoa, coffee, and corn plantations. This research experience opened new opportunities and lead me to participate as a visiting scholar in the Agricultural Chemistry lab, Louisiana State University. As a visiting scholar at LSU, I analyzed the residuality of glyphosate on roundup ready soybean. We were able to identify low concentrations of glyphosate on soybean and corn after harvest. And found that glyphosate residue values were under the values permitted by food safety organizations. This experience provided me the opportunity to pursue graduate studies in the Department of Plant Pathology and Crop Physiology, LSU. In my research as a M.S. student, I had a rewarding experience working with plant diseases such as "taproot decline" on soybean, foliar diseases on Roseau cane and viral diseases on taro. Currently, I am a Ph.D. student advised by Dr. Tristan Watson. For my research, I am working in a multistate project that aims to meet the needs of stakeholders that are experiencing severe economic losses due to root-knot nematode damage. My research project involves the "Identification and characterization of Meloidogyne enterolobii-resistant sweet potato genotypes" to develop commercial sweet potato varieties with resistance to M. enterolobii and M. incognita.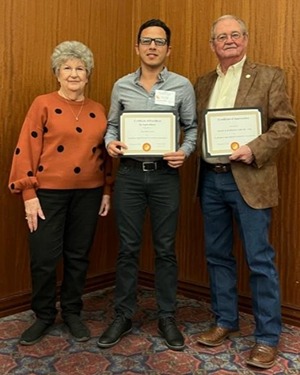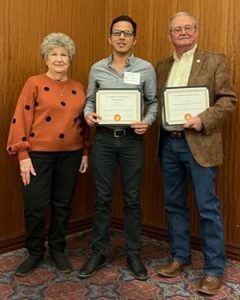 David Galo, doctoral scholarship recipient funded by Barbara and Grady Coburn of Pest Management Enterprises
Nelomie Galagedara
2023 LACA Scholarship Recipient funded by Louisiana Agricultural Consultants Association
I have worked in agriculture and plant pathology, for the past decade through my undergraduate and graduate studies, working currently on management of row crop diseases. Throughout my training I have sought opportunities to grow both professionally and personally and am grateful for the opportunity to apply for this scholarship.
I obtained my bachelor's degree in Plant Biotechnology from the highest ranked university in Sri Lanka, University of Colombo. For my undergraduate research project, I worked on developing a biofertilizer for rice cultivation in Sri Lanka by using the fungus, Hypocrea virens. The latter aimed to help rice farmers in Sri Lanka tackle phosphate unavailability in the soil. Following this, I completed my M.S. degree in the Department of Plant Pathology at North Dakota State University in May 2018. My thesis research was on genetic mapping of quantitative trait loci for resistance to tan spot in durum wheat and resulted in two publications in the high impact peer reviewed journal, Theoretical and Applied Genetics. During this time, I learned and applied tools in conventional and molecular wheat breeding, to help North Dakota wheat farmers tackle the yield-limiting tan spot disease.
Since spring 2019, I have been a graduate research assistant working on my doctoral degree majoring in Plant Pathology and minoring in Applied Statistics. I am co-advised on my dissertation research by Drs. Sara Thomas-Sharma and Vinson Doyle, LSU AgCenter. My dissertation research aims to understand the seasonal dynamics of Cercospora Leaf Blight (CLB) on soybean in Louisiana. The project utilizes spore traps to capture fungal spores in soybean fields, uses next generation sequencing to understand community-level spore dynamics, develops species-specific detection assays to quantify air borne inoculum of CLB, and utilizes the improved understanding of spore peaks to better target fungicide applications.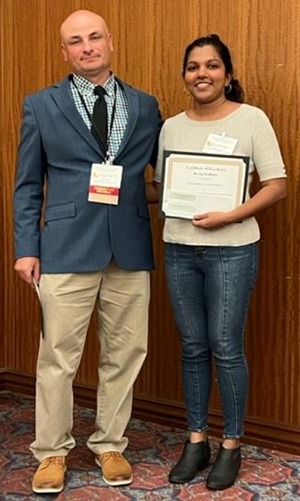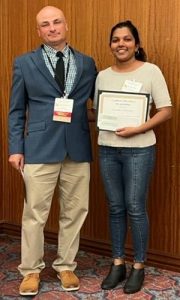 Nelomie Galagedara, Ph.D. student awarded scholarship sponsored by the Louisiana Agricultural Consultants Assocation. Pictured with Nelomie is 2022 LACA President, Jeremy Babin.
Masters Scholarship
Schyler Lee
2023 LACA Scholarship Recipient funded by Louisiana Land Bank
Schyler was born and raised in South Louisiana with a strong work ethic and a deep appreciation of agriculture. She double majored in animal science and horticulture. She marched piccolo in the LSU Golden Band from Tigerland, where she learned valuable leadership skills and received the Kayleigh Billings Award. Further, she has served as a volunteer musician at St. John the Evangelist Catholic Church since 2015. Professionally, she has immersed herself into as many agricultural disciplines as possible throughout the years. From landscape to sugarcane production, she is inspired to help producers in a hands-on way. After earning her master's degree, she hopes to become a well-respected crop consultant in this state. This goal was realized after a previous internship with GreenPoint Ag in Louisiana, where she learned from Mr. Ryan Waguespack, Mr. Shawn Mayeaux, Mr. Faron Molaison, and Mr. Neal Poche. She gained valuable field knowledge and skills in sugarcane, soybean, milo, and rice. She worked to understand the complexity of precision agriculture and how it can be used in modern production. According to Schyler, the more she learns, the more she finds herself asking bigger picture questions that have direct application. How can research influence a consultant's advice to a grower and make production most economical for them?
With her current and future findings, she hopes to reach Louisiana growers with information to aid management decisions and limit yield losses throughout the growing season.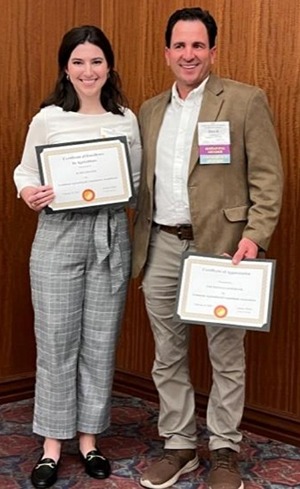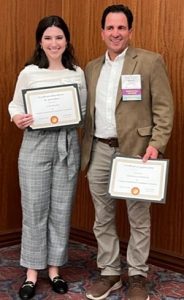 Schyler Lee, recipient of a graduate (Masters) scholarship sponsored by Louisiana Land Bank. Pictured with Schyler is David Bordelon of the Opelousas branch of the Louisiana Land Bank.
Undergrade Scholarship
Carter Banks
2023 LACA Scholarship Recipient funded by Ray and Dorothy Young
Carter is a lifelong resident of Crowville, LA and currently attends Louisiana Tech University where he is majoring in agribusiness with a concentration in business. Carter has grown up working on his Dad's farm helping raise corn and soybeans for the past eight years. While assisting his father on the farm, Carter also started a business selling sweet corn to local residents for the past six years. Not only is he a hard worker on the farm, Carter is an exceptional student in the classroom. In 2019, he graduated as Salutatorian of his senior class with a 3.9 GPA and was named Student of the Year for Franklin Parish. He finished high school with 24 hours of college credit and is currently a senior at LA Tech with a 3.774 GPA, a four-time Presidents List award winner, and has an anticipated graduation date of May 2023.
Carter has completed a summer intern position with Climate Fieldview, and will be ready to obtain a job in the field of agriculture. With his positive attitude, strong work ethic, and great personality, he should have no trouble finding a position and becoming an asset to whomever hires him.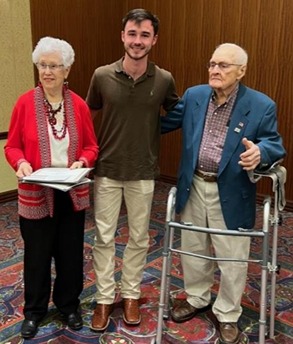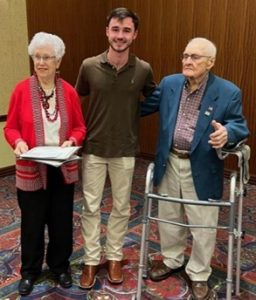 Carter Banks, undergrad scholarship recipient with Mr. & Mrs. Ray (Dorothy) Young, sponsors.
Ray & Dorothy Young Endowed Graduate Student Award
Tyler Musgrove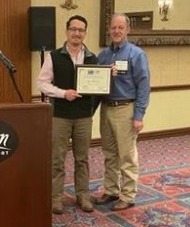 Tyler Musgrove accepts an award certificate from Dr. Mike Salassi, Interim VP & Director of the LSU Agcenter. Tyler was honored with the Ray and Dorothy Young Endowed Graduate Student Award.