Undergraduate Scholarship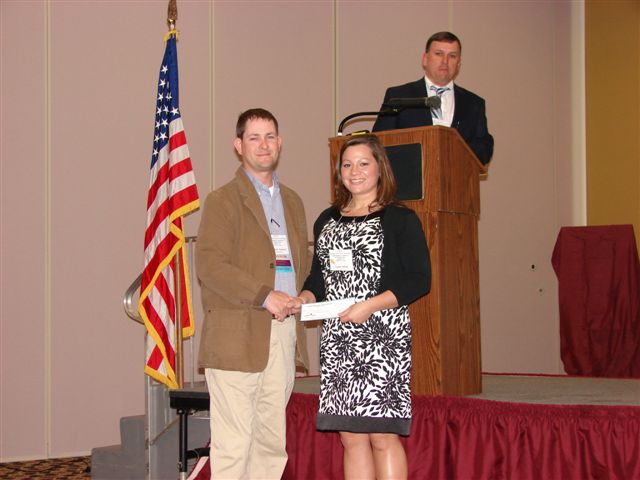 The winner of this year's LACA Undergraduate Scholarship is Ms. Lauren Heinen. Lauren grew up on a rice, cattle and crawfish farm in Welsh, Louisiana.
(Lauren Heinen accepts the 2011 LACA undergrad scholarship check from sponsor, Dow AgroSciences representative, Jonathan Siebert, Lauren is currently pursuing her degree in Agribusiness from LSU Baton Rouge.)
She is currently pursuing her degree in Agribusiness at LSU Baton Rouge and currently has an overall 3.7 GPA. Lauren has been on both the Dean's and the Chancellor's list for academic achievement. She has received TOPS and several academic scholarships. In addition, Lauren was awarded the Louisiana Freshmen Merit Award and the Award of Merit from the Honor Society of Agriculture. Lauren holds membership in the National Society of Collegiate Scholars, Rho Lamda Honor Society, and Omicron Delta Kappa Honor Society. She is an officer in the Agricultural Business Club and currently is serving as president of the Student Government Agricultural College Council.
She currently is an aid in the office of the dean of agriculture and previously was an intern in the office of Congressman Charles Boustany. Her extracurricular activities include:
Actively involved in assisting the visually impaired in many different ways including reading to visually impaired children and organizing interactions between LSU athletes and students at the Louisiana School for the Visually Impaired
Mentors incoming freshmen.
Volunteers at the LSU Childcare Center
Helps with projects for Habitat for Humanity
Note taker at LSU for students with disabilities
Volunteers at the Red Stick Farmer's Market teaching and helping children plant and grow flowers
Volunteered at LSU PMAC after Hurricane Gustav; giving out blankets and supplies to the victims of Gustav.
Junior class representative on the homecoming court
The list goes on.
Graduate Scholarship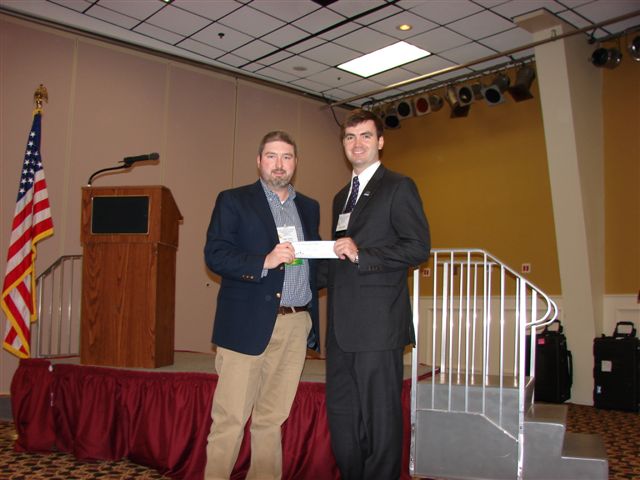 The recipient of this year's LACA graduate scholarship is Mr. Jarrod T. Hardke. Jarrod is a doctoral student and graduate research assistant at LSU in the Dept of Entomology. His advisor is Dr. B. Rogers Leonard. He currently has a 3.58 GPA.
(Jarrod Hardke accepts the 2011 LACA graduate scholarship check from President Hank Jones. Jarrod is a doctoral student and graduate research assistant at LSU in the Dept of Entomology under the advisement of Dr. B. Rogers Leonard. Co-sponsors for the graduate scholarship are Agrotain International, Gowan Company, Horizon Ag, RiceCo, and SFP.)
His dissertation research focuses on the contribution of Bt cotton cultivars and insecticides to fall armyworm management. Prior to enrolling at LSU, Jarrod worked for the University of Arkansas both in the Department of Entomology and the Cooperative Extension Service. His work experience included lab and greenhouse work involving beneficial insects; rearing a colony of cotton aphids; scouting cotton, rice, soybean, corn, and wheat fields for insects; assisting with research on pesticide efficacy and operating spray equipment for pesticide applications to previously mentioned crops.
In addition, he scouted insect pests in various crops on Hardke Farms and made recommendations for insect control.
Jarrod has won numerous academic awards:
Fellowship from Cotton Incorporated
Inducted into Gamma Sigma Delta Honor Society of Agriculture
Regional & National graduate student essay contest winner from the Future of Southern Agriculture
Winner of student oral competitions sponsored by the Mississippi Entomological Association; Sorghum Improvement Conference of North America; Entomological Society of America; Louisiana Agricultural Sciences Association
LSU Graduate Student Travel Award
Chanellor's Scholar, University of Arkansas
Governor's Scholar, Arkansas Dept. of Higher Education
C. Roy Adair Agronomy Scholarship
Staplcotn Scholarship
Arkansas Agricultural Consultants Association Scholarship
Kappa Sigma Endowment Fund Scholarship
National Kappa Sigma Scholar
Jarrod currently is lead author of 6 refereed publications in entomology; more than 5 abstracts and pesticide screening reports; 4 extension publications and 2 popular articles. In addition, he has given five presentations at scientific meetings.
Jarrod's Extracurricular Activities include:
Volunteer; Ag Magic; LSU Ag Center
LSU Debate Team member
Coordinator for Greeks Advocating Mature Management of Alcohol
Student Alumni Board
Vice President Kappa Sigma