Matthew "Matt" Foster
LACA Undergraduate Scholarship Recipient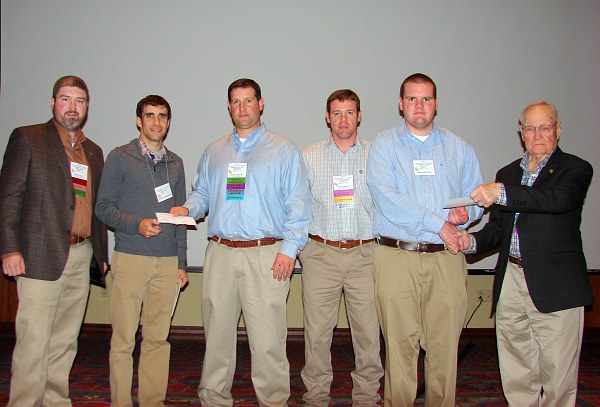 Mr. Foster graduated from Vidalia High School and attended Copiah Lincoln Community College before enrolling at Louisiana State University in Baton Rouge.
(Left to right, Hank Jones, outgoing (2011) LACA President, Matt VanWeelden, 2012 recipient of the LACA Graduate Scholarship, Brooks Blanche of Dow AgroSciences, sponsor of the graduate scholarship, Cullen Minter of RiceTec, co-sponsor of the undergraduate scholarship, Matt Foster, 2012 recipient of the LACA Undergraduate Scholarship, and Ray Young, co-sponsor of the undergraduate scholarship.)
He is currently pursuing a Bachelors of Science degree in Plant and Soil Systems with a concentration in Pest Management. Upon completion of his degree, Matt plans to work toward a masters with a concentration in weed science.
He has a GPA of 3.5 and has earned both a Tops and Dean Lee Scholarship.
Matt is a member of the Entomological Society; an AgMagic Volunteer; a Concordia Parish 4-H judge; a Display Event Volunteer; and a field crop training volunteer for producers in Concordia/Catahoula Parishes. He has worked as an intern for the LSU Cooperative Extension Service and has participated in numerous ag related activities. In addition, he was employed as a field scout from 2004-2007.
Matt's previous supervisors have included Mr. Glen Daniels (County Agent), Mr. Cecil Parker (Consultant), & Dr. Joshua Temple (formerly at LSU and currently Field Development Rep for Dupont). Matt currently works at LSU as a student employee who helps maintain the insect rearing facility in the Cotton Entomology Lab and also assists many masters and doctoral students with their research projects under the supervision of Ms. Jessica Parker and Dr. Rogers Leonard.
During the last two summers, Matt volunteered to scout an elderly/disabled farmer's crops. He helped this farmer with his in-season crop IPM strategies.
In a letter of recommendation, the author stated, "Matt is an honest, hardworking, and dependable person. His basic knowledge of agriculture, positive attitude, and overall work ethic has made him a valuable asset. Matt's future is bright and he will be a valuable asset to Louisiana agriculture when he completes his studies.
Mattherw "Matt" VanWeelden
LACA Graduate Scholarship Recipient

Mr. VanWeelden was born in Troy, Ohio and graduated from Warren Central High School. He earned both a bachelors and a masters degree in entomology from Purdue University with GPAs of 3.5. At the present time, he is pursuing a doctorate in entomology at LSU under the direction of Dr. Gene Reagan. His current GPA is 3.7.
Matt's initial interest was in urban IPM but he has chosen to broaden his knowledge and experience by pursuing his doctorate in entomology & field crop IPM. His current focus is on the development of cultural practices to mitigate problems with the invasive Mexican rice borer in sugarcane, bio energy crops, and rice. His research studies include the potential use of arthropod predators for inhibiting rice borer infestations and the implementation of energy cane varieties versus those used in a conventional cropping system.
Matt has earned the A.M. Frishman Scholarship; the G.F. Gould Scholarship; and the J.J. Davis Scholarship.
He is a member of the LSU Entomology Club having served as Vice President in 2011. Matt is currently serving as the club president. In 2011, he was the captain of the Louisiana State University Debate Team for the national competition sponsored by the Entomological Society of America. Matt was chairman of the graduate student entomology symposium at Purdue. In addition, he served on the Student Affairs Committee of the Southeast Branch of the Entomological Society of America.
Matt's professional experience includes working as an entomology lab tech at Purdue. He was an instructor and grading coordinator for a pest management correspondence course. Matt also served as the Support Coordinator for several pest management conferences. In 2008, he served as an intern for the National Pest Management Association in Washington, D.C.
Matt is author and co-author of three publications and has made several presentations on his research at regional and national professional meetings.