Doctoral Scholarship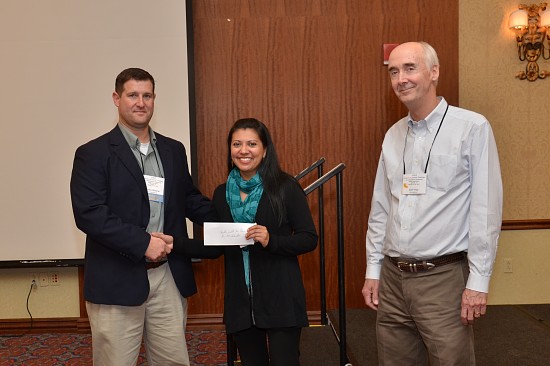 The recipient of the graduate scholarship is Ms. Carolina Avellaneda who is a PhD candidate in the Department of Plant Pathology and Crop Physiology at LSU in Baton Rouge.
(Brooks Blanche, representative from Dow AgroSciences, sponsor of the graduate scholarship (left), with Carolina Avellaneda, and her advisor, Dr. Jeff Hoy.)
She is a native of Bogota, Columbia. Carolina received her high school and undergraduate education in Bogota. During her undergraduate studies, she became interested in resistance as a method of plant disease control.
She began her career as an industrial microbiologist as an undergraduate intern; followed by her work with sugarcane viruses for 8 years at the Columbian Sugarcane Research Center. In 2002, she was awarded a scholarship from the International Cooperation Agency to study the diagnosis and characterization of viral diseases in plants at an institute in Argentina. It was this experience that motivated her to pursue her PhD.
As an undergraduate, she became interested in the research of Dr. Jeff Hoy on resistance to brown rust in sugarcane. She decided to apply for her PhD studies under Dr. Hoy.
Carolina has received four fellowships and has a wealth of experience as an industrial microbiologist concentrating on plant diseases. She has authored or co-authored 15 publications on plant diseases.
She is currently a member of the American Phytopathological Society and the LSU Department of Plant Pathology Graduate Student Association. One recommender states: Carolina has a broad overview of research and successfully integrates laboratory work with field trials, observations and productive discussions with others.
Undergraduate Scholarship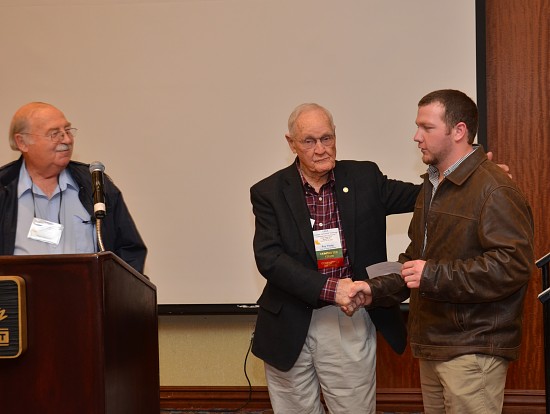 Josh Denison is an undergraduate in the College of Agricultural Sciences major at McNeese State University in Lake Charles. He has a 3.4 grade point average. He graduated Magna Cum Laude and had a 3.95 average in his high school class.
He is the third generation on Denison Farms which is a rice, soybean and cattle operation located in Iowa, LA.
Josh learned to farm from both his grandfather and father. He has spent many long hours in the fields and cattle pens. His grandfather taught him at a very early age how to plant crops, maintain them and check for plant diseases.
His father is an executive agricultural manager who taught Josh about land management, crop rotations, production and marketing of rice, cattle, and soybeans.
(Left at podium, Paul Templet, Chair of the Scholarship Committee, Ray Young of Young & Young Consultants, co-sponsor of the undergraduate scholarship, with Josh Denison.)
Josh currently is a student worker in the Center for Advanced Meat Production. He also has worked as a carpenter with Denison Builders. He has been extremely active in agricultural activities at all levels including state. He has won 15 awards and honors. In addition, he has excellent leadership skills and been involved in FFA activities. Josh collect, sorts, and distributes food items for needy families in his community. He also helps prepare and serve food to families in homeless shelters.
One recommender said of Josh: Josh will provide the next generation of Denison leadership in agriculture in Southwest Louisiana Agriculture. A retired Air Force colonel said of Josh: He would rank in the top 5% of all the Air Force and Navy officers I have supervised in my military career.