Doctoral Scholarship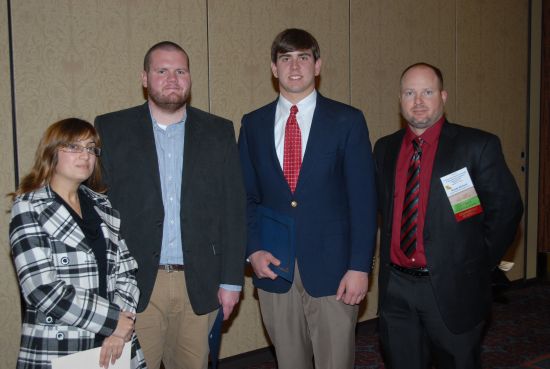 The recipient of the PhD Scholarship was Ms. Maryam Shahrtash who is pursuing her degree in Plant Health in the Department of Plant Pathology and Crop Physiology at Louisiana State University in Baton Rouge. Her major professor is Dr. Melanie Ivey. Maryam has a 3.5 GPA.
(Pictured from left, Maryam Shahrtash, doctoral scholarship recipient, Matthew Foster, graduate (Masters) scholarship recipient, Luke Habetz, undergraduate scholarship recipient, and Randy Richard, LACA 2014 President.)
She received her BS and MS degrees from Azad University graduating 2nd in her BS degree class & 1st in her MS degree class in Agricultural Engineering & Plant Pathology. Her Masters research was on the benefits of silicon, salicyclic acid and calcium on plant health in soils with high levels of cadmium. She published eight manuscripts and abstracts on her research and presented her findings at several national meetings. She graduated 1st in her Masters Degree program.
Currently, her research is focused on alternatives to copper for managing bacterial spot of peppers in seeds, transplants, and adult plants. Her research to date has provided evidence that selenium and silicon are absorbed by the roots of pepper plants and translocated to the leaves. The next phase of her research is to demonstrate that these elements can elicit a defense response against the three causative agents of bacterial leaf spot. Recently, she concluded research that shows that selenium can be used as a seed disinfectant. Results of her research will be presented at the 2015 Southern Division of the American Phytopathological Society Meeting.
Maryam has established a cooperative effort with the soil fertility scientists at LSU and is working with them on the effects of non-essential elements on soil health. In 2014, she presented the results of this collaborative relationship to soil scientists visiting from the University of Uberlandia, Brazil.
In addition to her research, Maryam is actively involved in the horticulture pathology program. She has trained fellow students in research techniques in plant pathology, assisted with field trials, participated in field days, and attended grower meetings. She is fluent in several languages and translates publications from German to English for departmental faculty. Maryam is active in the Departments Graduate Student Association where she serves on several committees. Upon completion of her PhD program, Maryam hopes to work in a university system as an extension specialist or in industry. She wants to work with growers and encourage them to implement sustainable management strategies that will minimize diseases, benefit the environment and contribute to the agricultural economy.
This scholarship was funded by Louisiana Land Bank, ACA. Presenting the scholarship was Stephen Austin, CEO.
Masters Scholarship
The recipient of one of the graduate scholarships was Mr. Matthew R. Foster, a graduate student at Louisiana State University who is pursuing a Master of Science degree in Agronomy with a concentration in Weed Science.
In 2007, Matthew graduated from Vidalia High School where he excelled in academics and other school related activities. From 2004-2007, he worked as a field scout for Agri-Services Ltd. His job included scouting cotton, soybeans, corn, grain sorghum, and rice for important pests. Matthew was employed from 2008 thru 2012 as an intern by the LSU Cooperative Extension Service in Vidalia, LA and worked under the supervision of Mr. Glen Daniels. His job responsibilities were assisting in conducting variety trials in a number of crops, helping LSU researchers and representatives of agro-chemical companies with aerial applications, and working during research station and agro-chemical company field days.
Matthew earned his Bachelor of Science degree from LSU in 2012; graduating with a 3.5 GPA in Plant and Soil Systems. During his undergraduate career, he worked as a student worker under the supervision of Dr. Rogers Leonard and became very interested in research and the developmental sector of the ag industry. Matthew entered graduate school and was hired as a graduate assistant by Dr. Jim Griffin and worked for him in the sugarcane and soybean weed science program. His research is focused on the evaluation of the residual activity of dicamba on soybeans as influenced by soil type and rainfall. He is also developing a procedure that uses early soybean injury symptoms to determine crop damage and the effect on yield.
Matthew has a 3.5 GPA in all graduate work and is rated in the top 1% of all graduate students in the Weed Science program. He earned a Louisiana Tops Scholarship; Dean J. G. Lee Scholarship and the 2012 LACA Undergraduate Scholarship. In addition, he is a member of the Weed Science Society of America, the Entomological Society of America, and has earned his LDAF Private Applicators License.
This scholarship was funded by Phytogen, a subsidiary of Dow AgroSciences, and was presented by Mr. Brooks Blanche.
Undergraduate Scholarship
The recipient of the undergraduate scholarship funded by Ray & Dorothy Young of Young and Young Consultants, RiceTec, and Crop Production Services, was Mr. Luke Habetz.
Mr. Habetz grew up on a rice and soybean farm in Crowley, Louisiana and graduated from Notre Dame High School with a 3.5 GPA. In high school, Luke was a member of the Beta Club, Student Council, and Science Club. He was voted Most Likely to Succeed. In addition, Luke excelled in sports and was a member of his school's state championship football team, team captain of his basketball team, and participated in track and tennis.
Mr. Habetz worked on the family farm, and part time at Landry's Feed Store. During the summers of 2012 thru 2014 he worked as an assistant farm manager for Hetzel Farms where he performed many daily farm chores and was personally responsible for the preparation, planting, and harvesting of over 200 acres of rice.
Luke is currently an Agribusiness major at LSU in Baton Rouge and has a 3.8 GPA that ranks him in the top five of all current Agribusiness majors at LSU. He is employed as an office assistant for Dr. Philip Elzer, Associate Vice Chancellor of the College of Agriculture. His scholarships & honors include TOPS, Fritz Lang Foundation Scholarship, and the William H. Alexander Memorial Scholarship in The Department of Agriculture Economics and Agribusiness. Luke is a member of Kappa Alpha and represents the College of Agriculture as a senator in the Louisiana State University Student Government Association. Community service includes an active volunteer in his church, a volunteer with Habitat for Humanity where he helped build two homes in Baton Rouge, and a volunteer for the Muscular Dystrophy Association where he helped his fraternity plan a silent auction that raised over twenty thousand dollars.
Presenting the scholarship was Ray & Dorothy Young of Young & Young Consultants, Cullen Minter of RiceTec, and Joe Pankey of Crop Production Services (CPS).