Masters Scholarship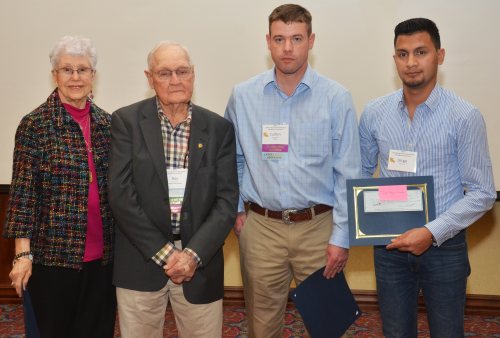 A Masters scholarship was awarded to Mr. Jorge Reyes Pineda. (Pictured with funding parties, Dorothy and Ray Young, and RiceTec representative, Cullen Minter. Not pictured is a representative from Crop Production Services).
Jorge grew up on his grandfather's farm in Honduras where he helped with the cultivation and harvesting of coffee and grain crops. He received his high school education and graduated with honors from the Agricultural Sciences Technical and Community Institute in Honduras. Mr. Pineda next studied agricultural engineering and agronomy at the Honduran National Agricultural University where he received honors for outstanding academic performance each year. As part of his vocational training at the university, he worked with extension programs on technology transfer to small and medium size growers. He conducted workshops, field days and demonstrations related to crop production, plant health and livestock management.
After graduation, Jorge worked for a private, apolitical, and non-profit foundation whose mission was to promote socio-economic development of small and medium size farmers, and assist them with the development and organization of cooperatives and other peasant associated organizations. His responsibilities included seeking grants and other financial support, and giving technical field assistance for crop production.
Currently, Mr. Pineda is conducting his thesis research under the direction of Dr. Ken Damann. Jorge is studying populations of the fungus, Aspergillus flavus and how it behaves in the corn ecosystem. His research is on a large scale study of this fungus and involves the isolation and characterization of both soil and corn kernel isolates from 8 states along the Mississippi River. One important practical question Jorge is attempting to answer is which of these isolates produces aflatoxin.
Prior to enrolling at LSU, Jorge was awarded a research internship in integrated pest management at Purdue University studying the critical period of weed competition in beans. He also had a research internship at LSU working on the biological control of aflatoxin in corn using extracts of Bacillus species isolated from rice.
Jorge has been described as a most knowledgeable, professional, and hard working student. In addition. He is thorough, meticulous, and adept at identifying pathogens and disease diagnosis.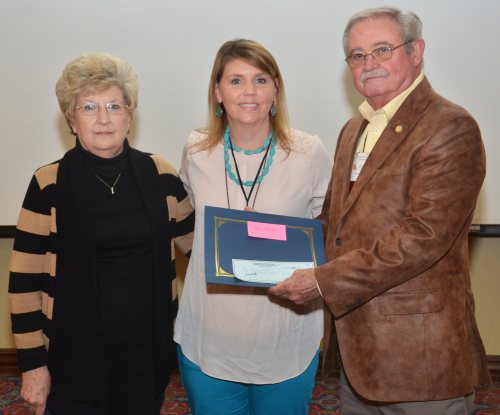 A Master of Science scholarship was awarded to Mrs. Myra Purvis (pictured with funders, Grady and Barbara Coburn of Pest Management Enterprises), who is working toward her degree in plant pathology at LSU. Myra attended high school and graduated with honors from Franklin Academy in Winnsboro, LA. She next attended Louisiana Tech and received her Bachelor of Science in Plant Science with a concentration in agronomy. Mrs. Purvis served an internship in entomology at the Monsanto Leland Agronomy Center; another in Biological Science at the Tensas River National Wildlife Refuge; and a third one at the Tensas River National Wildlife Refuge in Environmental Education.
In 2003, Myra was hired as a research associate at the LSU Ag Center Macon Ridge Research Station in Winnsboro, LA and remains in that position today while working toward her degree in plant pathology. Her position as a research associate involves working with both research and extension personnal and students in entomology and plant pathology. She also works closely with consultants and growers seeking their input on production problems in corn, wheat, cotton, grain sorghum, soybeans and rice. Competent in both the lab and field, Myra is in charge of disease identification, applying treatments, data collection, and statistical analysis of data.
Myra's thesis research on taproot decline in soybeans, under the supervision of Dr. Trey Price, involves identifying resistant varieties, alternative hosts, and chemical control.
Myra has had a positive impact on Louisiana agriculture. Her work and research continues to be very beneficial to producers, consultants and to the ag industry in general.
Doctoral Scholarship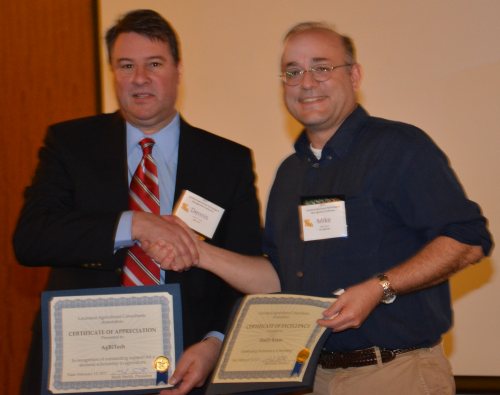 A doctoral scholarship was presented to Ms. Emily Kraus (Ms. Kraus was not present, so pictured is Dr. Mike Stout accepting on her behalf from Dr. Dennis Long of AgBiTech). Ms. Kraus graduated from East Central High School in Lawrenceburg, Indiana and enrolled at Purdue University. She earned a Bachelor of Science with a concentration in entomology from Purdue University and a Master of Science in entomology from Kansas State.
Ms. Kraus has a wealth of multiple international experiences. She served as a volunteer in the United State Peace Corps in West Africa and as an agricultural consultant for rice at the Nicaraguan Rice Research Station. In addition, she received a NSF scholarship to participate in a rice production course at The International Rice Research Station in Los Banos, Philipines. She has studied organic agriculture production in England and France, and served two years as an agricultural extension agent in Senegal, West Africa.
Ms. Kraus has held many other positions including serving as a biologist for Monsanto in the Biotechnology and Plant Entomology Department; an agricultural technician in the Agronomy Department at Kansas State; a field and laboratory supervisor in the Entomology Department at Purdue; and both a graduate research lab and teaching assistant at Kansas State and Purdue.
In addition, Emily has been the recipient of 20 different scholarships, awards, and honors. She has always been very active in entomology clubs serving as Vice President of the Thomas Say Entomology Club at Purdue; President of the Popenoe Entomology Club at Kansas State and Vice President and President of the LSU Entomology Club. She is a member of the LSU Debate Team; a Global Ag Ambassador and a member of Environmentors, a group mentoring high school students interested in environmental based science fair projects. Ms. Kraus also serves as a reviewer for the journal Entomologia. Ms. Kraus is the author or co-author of 6 publications, 4 research poster presentations, and 18 scientific and outreach presentations.
Her doctoral research examines how rice plants respond to early season biotic and abiotic stresses. To date, she has found that the applications of some herbicides to young rice plants reduce infestations of rice water weevils in later stages of plant development; early season defoliation by armyworms sometimes reduces water weevil populations; rice water weevil infestations immediately after flooding can limit later infestations of this insect; and application of methyl jasmonate to seeds or roots may increase resistance to rice water weevils.
Ms. Kraus has a tireless work ethic and has achieved many outstanding successes in agriculture through her vastly unique and diverse experiences.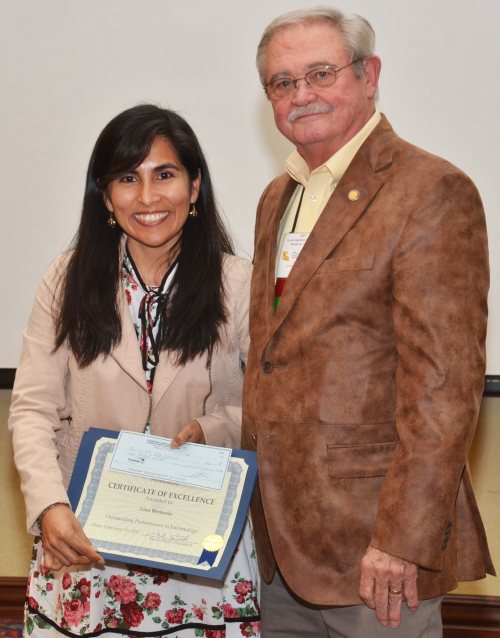 A doctoral scholarship was awarded to Ms. Lina Bernaola (pictured with Dr. Grady Coburn, representing Louisiana Land Bank, ACA). Ms. Bernaola graduated first in her high school class and subsequently enrolled at Universidad Nacional in Lima, Peru, and earned her B.S. in Biological Sciences with honors and a concentration in Cellular Biology and Genetics.
While an undergraduate, she was a research trainee at The International Potato Center, and later received a scholarship to conduct research on the genetic resistance to late blight in germplasm using multiple molecular techniques. For her excellence in research, she was awarded the Raymondi Memorial Award as the Outstanding Plant Genetics Student. The Biological Sciences Faculty of the university also recognized Ms. Bernaola as a top undergraduate student.
Lina next served as a research assistant at the National Institute of Agricultural Research in Lima where she adapted specific laboratory protocols for the detection, identification, and quantification of transgenic events in maize.
Upon enrolling at LSU in 2010, Ms. Bernaola served as a graduate research assistant in the Department of Plant, Environmental & Soil Science where she worked on isolation, cloning, and sequencing of differentially expressed genes, and the analyses of population genetics data using different statistical analysis software.
In 2012, Lina received her Master of Science degree in Agronomy and Crop Science. Her thesis was titled, "Development and Utilization of Molecular Markers to Study Genetic Diversity of Smooth Cordgrass and Cold Tolerance in Sugarcane." She is currently working on her doctorate in the Department of Entomology with Dr. Michael Stout serving as her advisor. Her dissertation is titled, "Interactions Between Below Ground and Above Ground Organisms in Rice." The focus of this research is to design, conduct and analyze laboratory, greenhouse and field research on key pests of rice, specifically evaluating the effects of mycorrhizal fungi on rice resistance to insects and pathogens.
Lina has served as an instructor for undergraduates at the National University of Education and as the manager of the LSU Entomology Rice Laboratory where she mentors undergraduates in entomology and plant pathology. She is a mentor to high school students who present their research at the EnvironMentors Science Fair, and she is one of a group of mentors for freshmen students in the Biological Sciences.
Ms. Bernaola has been the recipient of 4 scholarships to participate in several genetics short courses in Guatemala, Italy, Spain, and The Netherlands. In addition, she has received 17 different awards and honors. Lina is the author of 6 referred journal articles, 9 extension and non-referred articles. She also has given 13 oral presentations, 10 poster presentations, and 6 seminars and invited presentations.
Lina is very active on campus serving on numerous committees, and she has been vice president and president of the Entomology Club. She is a member of 10 professional and scientific organizations and she is fluent in English, Spanish and Portuguese.
In 2015, Lina was recipient of the Ray & Dorothy Young Endowed Assistantship in Field Crop IPM.